NIAGARA PRESS SA2 REBUILD
Niagara Press Case Study Overview
A leading global provider of mobile electronics and transportation systems produces several radiator components. They have relied upon an SA2-150-48×30 Niagara Automatic Power Press for many years, and many more to come.
BACKGROUND
The SA2-150-48×30 Niagara presses were designed and built to manufacture end caps for car and truck radiators. For precise control of the slide, the press features a six point square gibbing on the slide, with a slide stroke of 4 inches, as well as full energy developed 1/4 inch up on stroke for general duty, and operates from 50 to 150 spm. In addition, the press is equipped with a single rack & pinion roll feed with micro-adjust drive, which conveys the material automatically to the press tool while simultaneously retaining the left-overs.
Other special features of the press include:
No. 5 Littell anti-backup & stock guide support toll assembly
No. 5-24-1/2 Littell stock oiler
No. 424-7PD Littell special variable speed straightening machine
No. 40-24 Littell special automatic centric reel
After 20 years of reliable operation at approximately 20 million strokes per year, the press was scheduled for a rebuild to ensure continued reliable operation.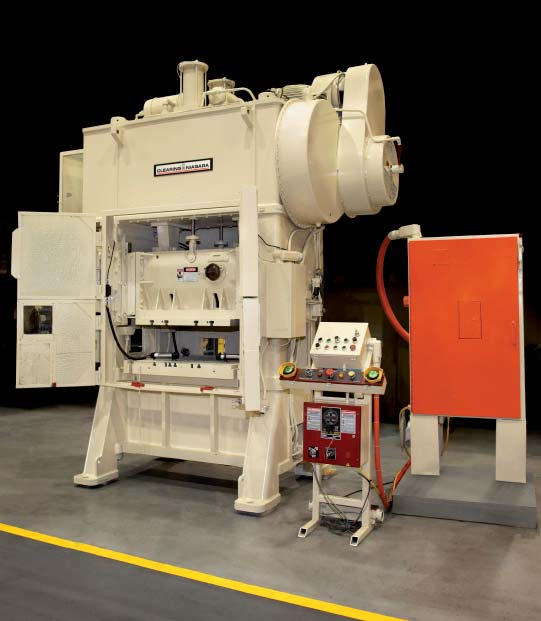 Dismantle, Clean, Inspect.
At the BCN Technical Services manufacturing facility in Hastings, Michigan, the press was completely disassembled and cleaned. All parts were inspected and documented under the direction of an experienced press rebuild engineer for wear and to ensure quality for reassembly.
Scope of Rebuild and Methods for Cost Control.
A complete audit was carried out with managers from the rebuild customer to review the status and condition of the components and facilitate the decision to refurbish or replace where needed. With the small cost of a quality inspection by experienced rebuild engineers, thousands of dollars were saved.
Due to wear during the machine's many years of service, the flywheel brake piston, flywheel brake shoe, brake arm bushings and gib screws were replaced.
Additional Project Information
In addition, the scope of the complete rebuild also included major press system component rebuilds and repairs:
Crown Assembly: The eccentric shaft runout was checked and the crown was reassembled using new parts followed by the installation and fit of the eccentric shaft to the crown.
Slide Assembly: A completely new gib was installed and the barrels and slide were reassembled.
Counterbalance Assembly: The cylinders were polished and reassembled using new seals and bushings.
Driveshaft Assembly: The clutch and brake were rebuilt with new bearings, keys, and belts.
Final Assembly: The press was reassembled using both new parts where specified and reworked parts in accordance with the customer audit and approval. Next, the lubrication system was flushed and a test operation was run to ensure desired performance. Last, the press was painted and prepared for shipping.
The entire project was engineered and managed by an in-house project engineer using original OEM spec drawings from the library of two million press drawings owned by BCN Technical Services and stored in the Hastings library. With access to these drawings and related historical repair and replacement records, as well as documentation of any major changes to the press, the overall project was simplified, minimizing related engineering and design costs.
End Result—Modern Reliable Specialty Press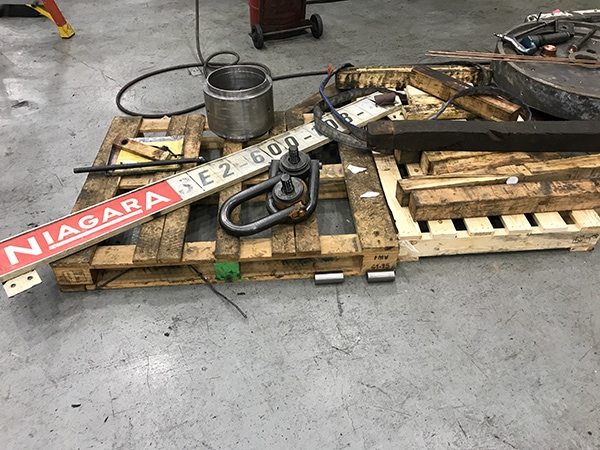 The decision to rebuild the specialty Niagara press with BCN Technical Services ensured excellent quality with built-in reliability and productivity. The rebuild resulted in a substantially lower cost than the investment of a new press as well as delivery within 16 weeks.
The rebuilt SA2-150-48×30 Niagara press is also covered by an industry leading 1-year warranty for parts and repair with the comfort of knowing that an extensive variety of standard parts are available for fast repair and replacment when needed – saving precious production time and meeting immediate service needs.
Sign-up to receive updates and important information from BCN Technical Services.
Hours of Operation
Monday–Friday:
8 a.m.–5 p.m.
Saturday–Sunday:
Closed