How to find the parts you need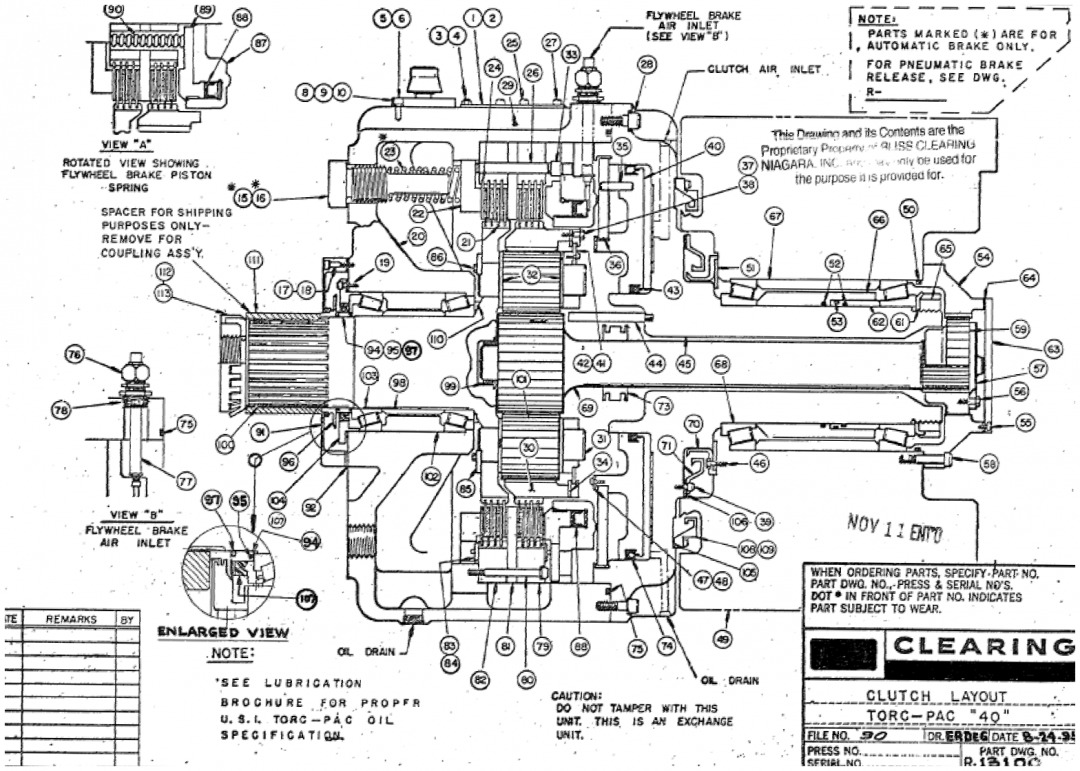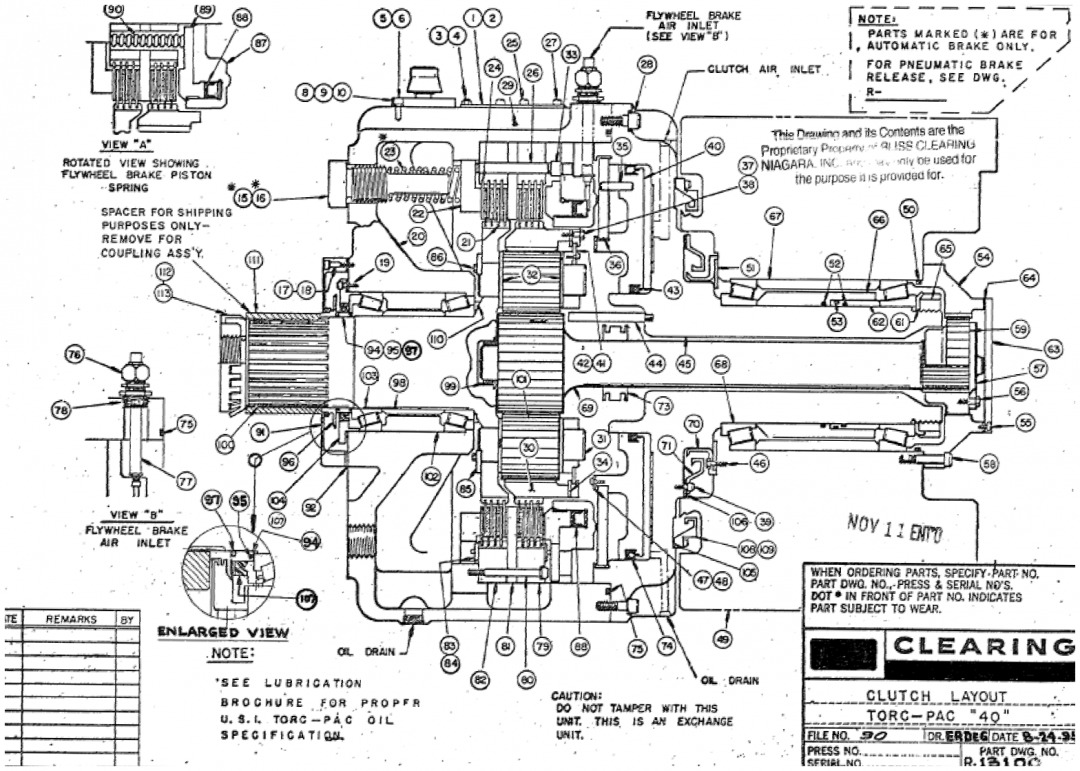 | Part Number | Description | No. Req. | Part Number | Description | No. Req. | Part Number | Description | No. Req. | Part Number | Description | No. Req. |
| --- | --- | --- | --- | --- | --- | --- | --- | --- | --- | --- | --- |
| 1 | Retainer Plate | 1 | 31 | Planet Pin | 5 | 65 | Locknut | 1 | 94 | Spacer | 1 |
| 2 | Gasket | 1 | 32 | Planet Washer | 10 | 66 | Spacer | 1 | 95 | "O" Ring | 1 |
| 3 | Key Bolt | 1 | 33 | Stop Pin | 8 | 67 | Spacer | 1 | 96 | Oil Slinger | 1 |
| 4 | Hex Nut | 1 | 34 | Spacer Ring | 1 | 68 | Bearing | 2 | 97 | "O" Ring | 1 |
| 5 | Cap Screw | | 35 | Dowel Pin | 4 | 69 | Sun Gear | 1 | 98 | Inner Spacer | 1 |
| 6 | Lockwasher | | 36 | Polar Lever | 24 | 70 | Oil Slinger | 1 | 99 | Bushing | 1 |
| 7 | | | 37 | Retainer Ring | 1 | 71 | Oil Catcher | 1 | 100 | Planet Spider | 1 |
| 8 | Retainer Plate | 1 | 38 | Cap Screw | | 72 | | | 101 | Planet Gear | 5 |
| 9 | Gasket | 1 | 39 | Cap Screw | | 73 | Slinger | 1 | 102 | Spacer Bushing | 1 |
| 10 | Breather | 1 | 40 | Piston | 1 | 74 | "E"Packaging | 1 | 103 | Bearing | 2 |
| 11 | | | 41 | Guide Ring | 1 | 75 | "O" Ring | 1 | 104 | Bearing Retainer | 1 |
| 12 | | | 42 | Cap Screw | | 76 | Male Pipe Connector | 1 | 105 | Gasket | 1 |
| 13 | | | 43 | "E" Packing | 1 | 77 | Flex. Hose | 1 | 106 | Gasket | 1 |
| 14 | | | 44 | Lubrication Pipe | 1 | 78 | Reducer Bushing | 1 | 107 | Oil Seal | 1 |
| 15 | Spring Retainer | 22 | 45 | Quill | 1 | 79 | Clutch Ring | 1 | 108 | Oil Catcher | 1 |
| 16 | Gasket | 22 | 46 | Cap Screw | | 80 | Cap Screw | | 109 | Cap Screw | |
| 17 | Cap Screw | | 47 | Retainer Ring | 1 | 81 | Back-up Plate | 1 | 110 | Spacer | 1 |
| 18 | Lockwasher | | 48 | Cap Screw | | 82 | Brake Ring | 1 | 111 | Spacer | 1 |
| 19 | Cap Screw | | 49 | Flywheel | 1 | 83 | Retainer | 4 | 112 | Lockwasher | 1 |
| 20 | Housing | 1 | 50 | "O" Ring | 1 | 84 | Cap Screw | | 113 | Locknut | 1 |
| 21 | Friction Disc | 8 | 51 | Oil Retainer | 1 | 85 | Retainer Ring | 1 | | | |
| 22 | Brake Pressure Plate | 1 | 52 | "O" Ring | 2 | 86 | Cap Screw | | | | |
| 23 | Spring | 22 | 53 | "O" Ring | 1 | 87 | Pressure Ring | 1 | | | |
| 24 | Driven Disc | 8 | 54 | Drive Hub | 1 | 88 | "U" Packing | 1 | | | |
| 25 | Cap Screw | | 55 | Cap Screw | | 89 | Piston | 1 | | | |
| 26 | Release Pin | 8 | 56 | Cap Screw | | 90 | Spring | 6 | | | |
| 27 | Cap Screw | | 57 | Retainer | 1 | 91 | Oil Catcher Ring | 1 | | | |
| 28 | Cap Screw | | 58 | Drive Bolt | 12 | 92 | Gasket | 1 | | | |
| 29 | Key | 1 | 59 | Spline Hulb | 1 | 93 | | | | | |
| 30 | Ring Gear | 1 | 60 | | | | | | | | |
| | | | 61 | Lockwasher | 1 | | | | | | |
| | | | 62 | Spacer | 1 | | | | | | |
| | | | 63 | Cover Plate | 1 | | | | | | |
| | | | 64 | Gasket | 1 | | | | | | |
When it comes to servicing a Clearing Torc-Pac 40, even the most seasoned operator can have trouble identifying and locating the parts that need to be replaced. Without the original blueprints, navigating the dozens of pins, bolts and screws can be a challenge. Luckily, BCN Technical Services has access to the Original Equipment Manufacturer (OEM) drawings, making it easier to understand what makes the Torc-Pac tick.
Once you download the diagram, you can use it to help diagnose your press, identify which parts need to be replaced and learn how to disassemble and reassemble the machine. Each part is conveniently labeled, so you can refer to the chart for the part's exact name and other identifying information. The chart also displays the required quantity of the part, in case you want to order the full set or keep a few spares on hand. Either way, when you order from BCN, you're ordering from Clearing – and there's no better way to service your press than from the source itself.
Cost-Effective Programs
If you're looking to streamline your Torc-Pac 40 service and save on time and costs, browse through the programs we offer specifically for this metal press. As part of the Direct Exchange Program, you can send in old or damaged clutches and brakes to our Hastings, Michigan facility, and receive like-new, factory-rebuilt units in return.  BCN engineers will inspect your old parts, rebuild them and re-sell them to future customers. Or, you might opt for the Repair and Return Program to send your clutch in for service, have it repaired and then given the same clutch back for prompt installation.
Another popular option for Torc-Pac 40 users is to enroll in our Preventive Maintenance Program, where you can set up a time for the machine to be overhauled. This means every part will be inspected, damages will be reported and malfunctioning pieces will be replaced to keep your press functioning properly. It's always best to stay on top of your operations and take preventative action; otherwise, you run the risk of experiencing unexpected delays and revenue loss later on.
Contact
If you're interested in learning more about how we can help your Torc-Pac 40 run smoothly and efficiently, or about the other services BCN can offer you, contact us today or call 1-269-948-3300.
① Good and Services Warranty
Purchase press parts with confidence from BCN Technical Services. We guarantee at the time of delivery, the goods will be free from defects in materials and workmanship. We will perform services in a prompt, professional and workmanlike manner. View our Goods and Services Warranty for details.
② Original OEM Specifications
Replacement parts are manufactured to original OEM specifications from record sets maintained by serial number, so there's no guessing or wondering if a part will fit.  We have original drawings, manufacturing expertise, and the experience of a team of engineers who know your press inside and out.
③ Delivery
BCN Technical Services has an extensive inventory of the most requested OEM replacement parts in stock at our facility in Hastings, MI. Over 14,000 unique spare parts for presses are kept on hand. Our experienced staff is dedicated to quickly providing that critical part, which allows you to avoid delayed repairs, lost productivity and lost revenue.
Sign-up to receive updates and important information from BCN Technical Services.
Hours of Operation
Monday–Friday:
8 a.m.–5 p.m.
Saturday–Sunday:
Closed